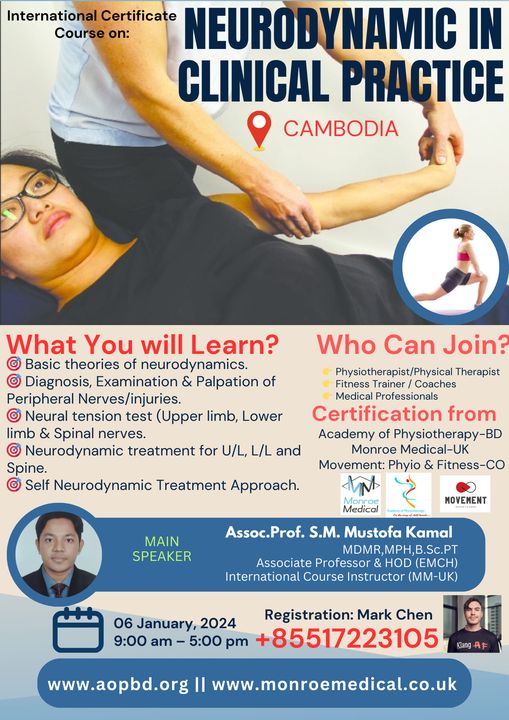 International Certificate Course on: #Neurodynamic_in_Clinical_Practice
#Date: 06 January' 2024
#Seat: 15 (1st come 1st registration basis)
#Fees: 300 USD
#Call_for_registration: +85517223105 (Mark Chen – Cambodia)
#Venue: Training Hall, Phnom Penh, Cambodia.
>> Basics of Neurodynamic.
>> Diagnosis, Examination & Palpation of neural systems (Palpation of Peripheral Nerves).
>> Neurodynamic (neural tension test) test.
>> Application of Neural stretching treatment.
>> Application of neural Mobilization treatment.
>> Practical application of Neurodynamic treatment to various conditions (U/L, L/L & Spine).
#What you will get:
You will get a evidence based Examination, Diagnosis and treatment knowledge and hands on skills to treat following conditions: Spinal Pain, Disc herniation/ prolapse, Carpal tunnel syndrome, Thoracic outlet syndrome, Cervical Rib, Piriformis syndrome, Sciatica, Tarsal tunnel syndrome, Adherent nerve root compression, Athletic performance enhancement, To improve flexibility etc.
Study materials, Food during course, Certificate issued from Academy.
Assoc. prof. (Dr.) S. M. Mustofa Kamal PT
MDMR, MPH, BSc.PT
Associate Professor & Head of Dept. (EMCH)
International Course Instructor (Monroe Medical – UK)
MOVEMENT: PHYSIO & FITNESS (CAMBODIA)
MONROE MEDICAL-UK
Email: info@aopbd.org
Web: www.aopbd.org || www.monroemedical.co.uk