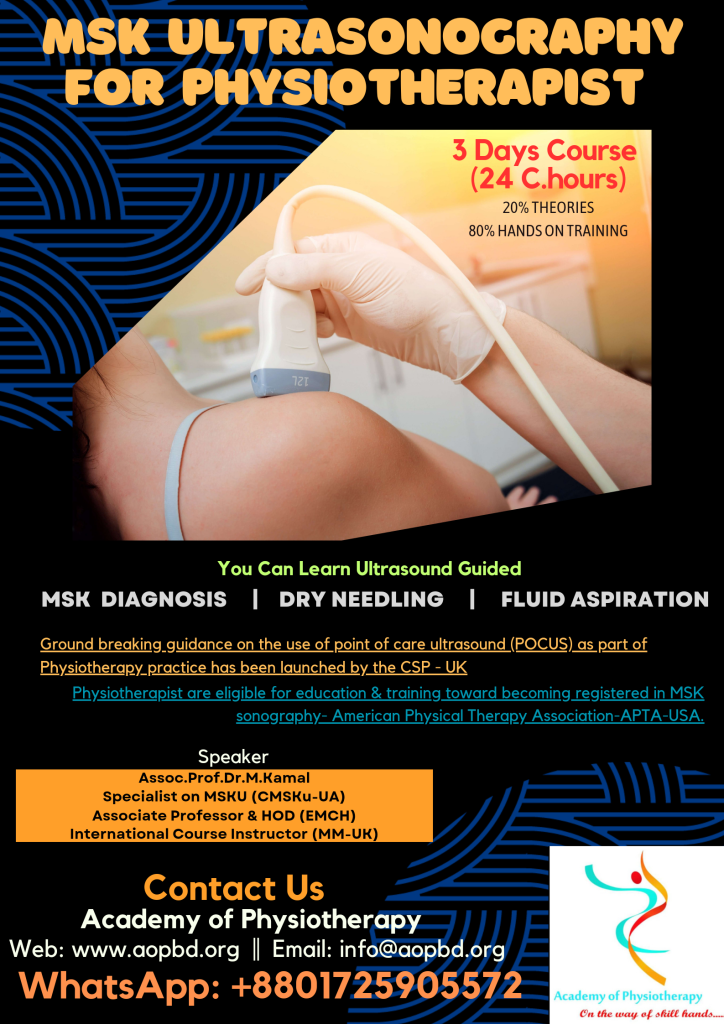 >>>International Certificate Course<<< ***MSK Ultrasound for Physical Therapist***
#Course_Duration: 3 Days course (Total 24 C. hours)
#Learning_Objectives:
Soft tissue Diagnosis (eg. Ligament injury scanning, Tendon injury scanning, Muscle injury scanning, Joint Capsule injury scanning, Bursa injury scanning etc).
To obtain treatment / healing progression though MSK scanning.
To apply ultrasound guided dry needling (upper limb, lower limb and spine).
Ultrasound guided joint/ bursa fluid aspiration.
#Who_Can_Join_This_Course?
Physiotherapist, Physical Therapist, GP, Physician, Medical Practitioners are eligible to do this course.
#Can_Physiotherapist_practice_MSK_Ultrasound?
According to American Physical Therapy Association (APTA-USA) and Chartered Society of Physiotherapy (CSP-UK) Physiotherapist can independently practice MSK ultrasound after proper registration/ licenses/ certification on MSKU.
#Who_is_Providing_MSK_Ultrasound_Course?
Academy of Physiotherapy (BD) in association with Monroe Medical (UK) jointly providing this course globally.
#What_You_Will_Get_From_This_Course?
International learning platform, International associated Certificate, Study Materials, Online addressing as a MSKU Practitioner on our international official website.
#How_To_Join_or_Host_This_Course?
To join or host this course throughout the globe please write an email to info@aopbd.org or WhatsApp at +8801725905572 .
#You_Can_Visit_Us:
www.aopbd.org www.monroemedical.co.uk