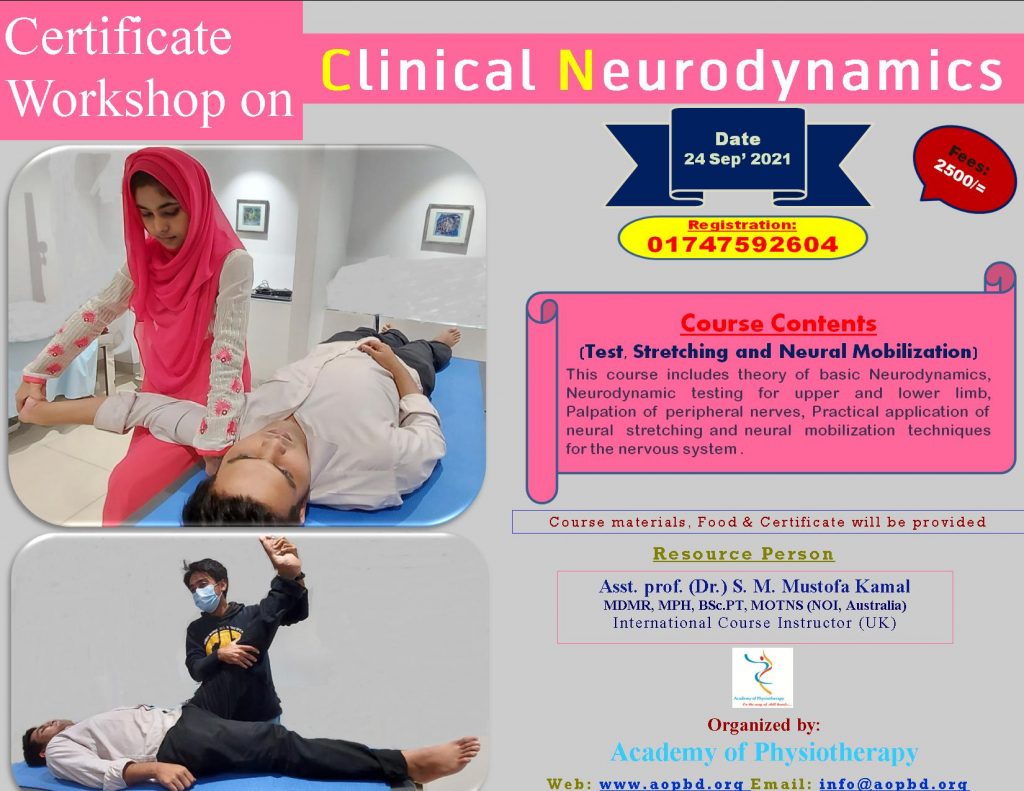 Certificate Workshop on: Clinical_Neurodynamics_U/L & L/L

#Date: 24 September' 2021 (Friday)
#Seat: 10 (1st come 1st registration basis)
#Fees: 2500 BDT till 30 August (after 30 August 3000 BDT).
#Call_for_registration: 01747592604
#Venue: Training Complex of Academy of Physiotherapy, Dhaka.

#Contents: >> Basics of Neurodynamic.>> Examination of neural systems.>> Neurodynamic (neural tension test) test.>> Application of Neural stretching treatment.>> Application of neural Mobilization treatment.>> Practical application of Neurodynamic treatment to various conditions (U/L & L/L).

#What you will get: Study materials, Food during course, Certificate issued from Academy.

#Resource_Person
Asst. prof. S. M. Mustofa Kamal , MDMR, MPH, BSc.PTAssistant Professor (SCMST-affiliated by University of Dhaka)International Course Instructor (Monroe Medical – UK)

Organize by:
#Academy_of_Physiotherapy
Phone: 01747592604
Email: info@aopbd.org
Web: www.aopbd.org

#academyofphysiotherapy #neurodynamics #manualtherapy #neuralmobilization #Neuraltensiontest #neuralstretching #neurodynamictreatment #aopbdcourse