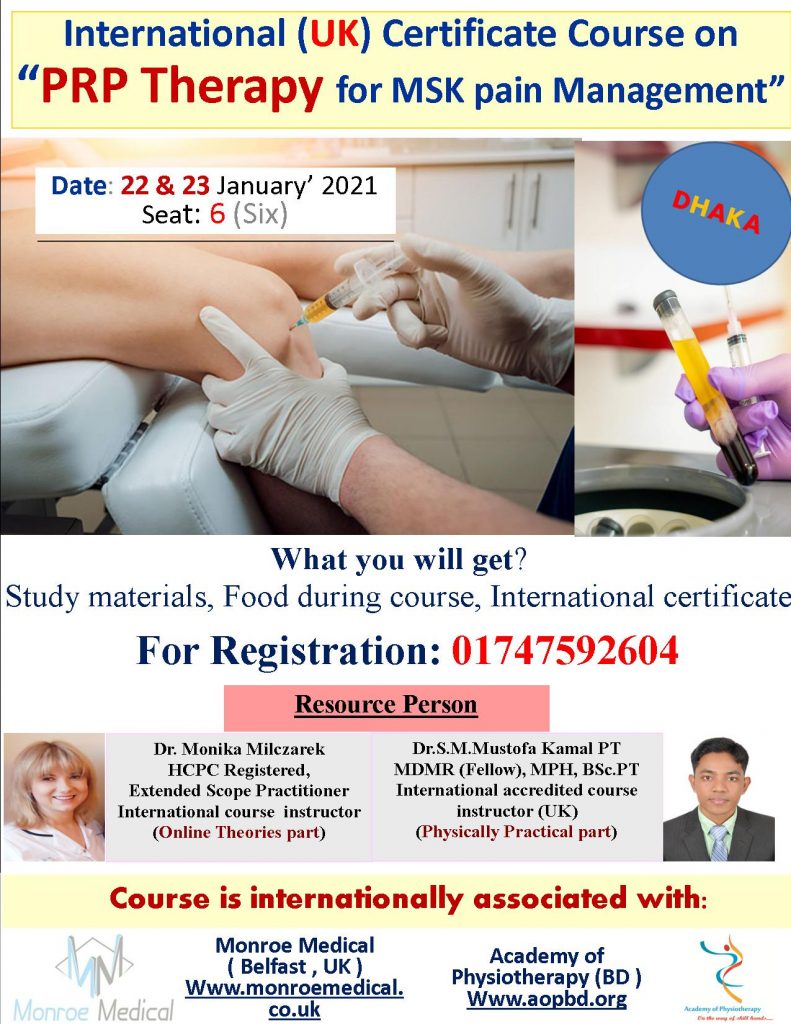 International (UK) Certificate Course on: "Platelet Rich Plasma (PRP) Therapy for Musculoskeletal (MSK) Pain Management" Date: 22 & 23 January 2020 Total Seat: 06 (Six) Registration Fees: 200 USD/ 15000 BDT Location: Dhaka, BD Call for registration (1st come 1st book): +8801747592604
Course Contents: Introduction of PRP therapy, Indication, Contraindication, Precaustion, Safety maintenance, After care of PRP therapy, PRP kits/tools introducing, Operation technique of Centrifuge machine, Practical demonstration of Blood collection, blood transfusion , bood centrifugation, PRP preparation and application of PRP therapy to: Rotator Cuff Tendinitis, Tennis Elbow, OA Knee, Ligament/meniscus injury at knee joint, Planter Fascitis, Aknle joint artritis, Ligaments injury at Ankle joint etc.
What you will get? Colored course module, Pad, pen, File, Breakfast, Lunch, Tea, International associated certificate upon competence exam, Internation identification to academic website.
Resource Person: Dr. Monika Milczarek (HCPC registered, Extended Scope Practitioner – Belfast, United Kingdom), Online Theories coverage. Dr. S.M. Mustofa kamal PT (MDMR fellow, MPH, BScPT, International Course Instructor, Monroe Medical, United Kingdom)
Course is internationally associated with: Monroe Medical – UK ( www.monroemedical.co.uk / info@monroemedical.co.uk ) & Academy of Physiotherapy – BD ( www.aopbd.org / info@aopbd.org )