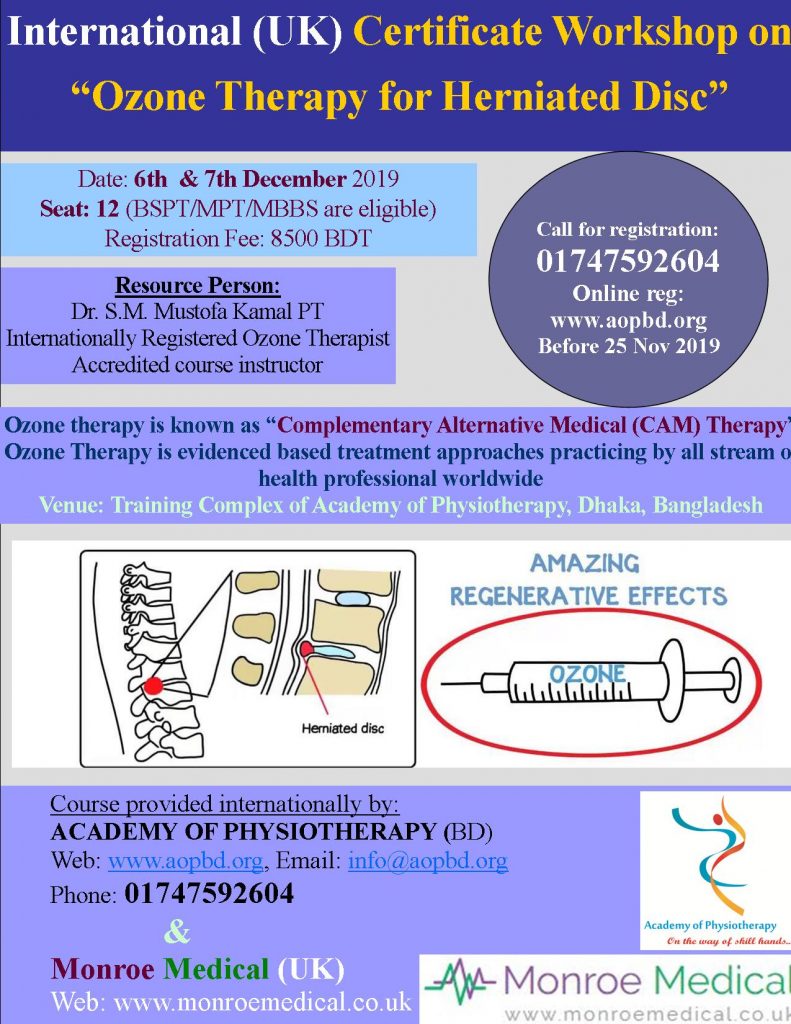 Evidence based "Complementary Alternative Medical (CAM) Therapy" practicing by all stream of health professional worldwide to alleviate pain and improve patients from sensory motor weakness.
Date: 6 & 7 December 2019
Seat: 12 (BSPT/MPT/MBBS are eligible)
Registration Fee: 8500 BDT
Venue: Training Complex of Academy of physiotherapy, Dhaka, Bangladesh.
Coverage Area:
1. Theoretical Part:
Anatomy + Palpation + Examination (Physical, Radiological) + Differential Diagnosis + Classification of herniated disc + Mechanism of Disc herniation + Introduction to Ozone therapy + Mechanism of action of Ozone therapy to herniated disc + Dose calculation + Contraindication + Precaution + Extensive literature discussion + Comparison of Ozone therapy and Surgery.
2. Practical Part (Minimal Invasive procedure): Subcutaneous Ozone application, Deep Muscular ozone application, Ozone application to surrounding Disc.
Registration procedure: Call to +8801747592604 or online registration at www.aopbd.org (before 25 November 2019)
Course provided internationally by:
Monroe Medical (UK) [www.monroemedical.co.uk]
&
Academy of physiotherapy (BD) [www.aopbd.org]
You can find the literature here under:
1. Minimally Invasive Oxygen-Ozone Therapy for Lumbar Disk Herniation (http://www.ajnr.org/content/24/5/996) .
2. Oxygen-ozone therapy for herniated lumbar disc in patients with subacute partial motor weakness due to nerve root compression. (https://www.ncbi.nlm.nih.gov/pubmed/25363257) .
3. L5-S1 Achromobacter xylosoxidans infection secondary to oxygen-ozone therapy for the treatment of lumbosacral disc herniation: a case report and review of the literature.( https://www.ncbi.nlm.nih.gov/pubmed/24384664)
4. Ozone therapy as a treatment for low back pain secondary to herniated disc: a systematic review and meta-analysis of randomized controlled trials.( https://www.ncbi.nlm.nih.gov/pubmed/22430658).
5. Cervical Spondylodiscitis After Oxygen-Ozone Therapy for Treatment of a Cervical DiscHerniation: a Case Report and Review of the Literature.( https://www.ncbi.nlm.nih.gov/pubmed/27703423) .