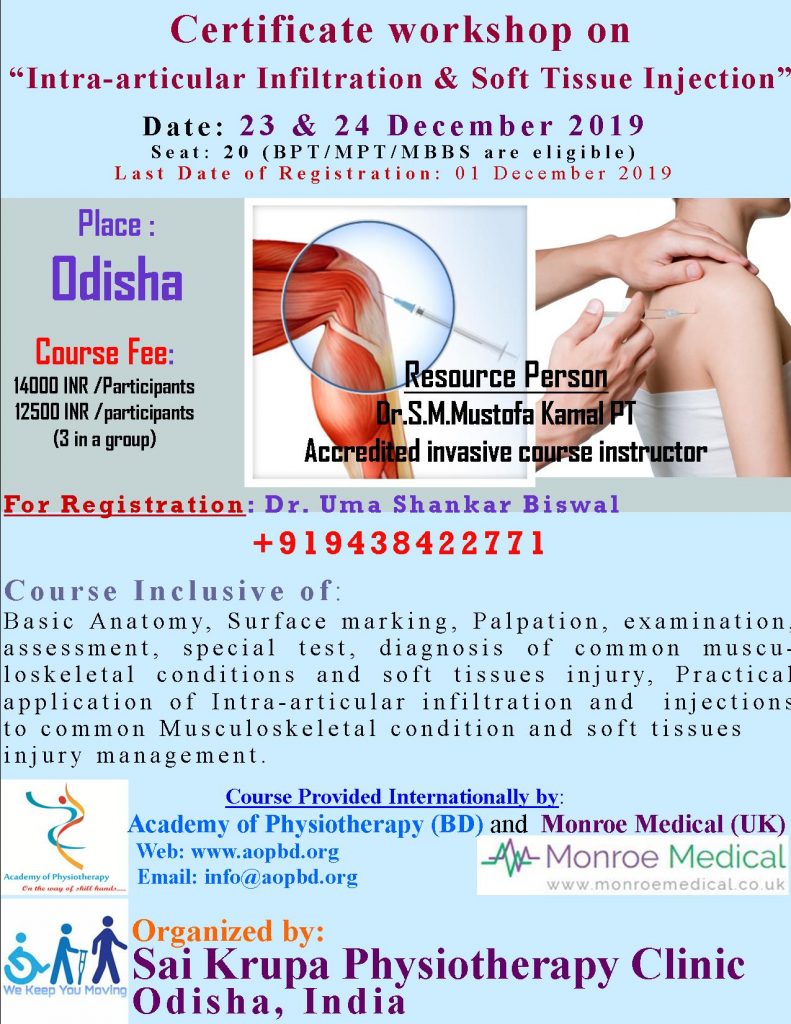 Date: 23 & 24 December 2019
Place: Odisha, India
Total seat: 20 (Fixed)
Eligibility : BPT/MPT/MBBS
Course fee: 14000 INR / participant ( 12500 INR in a group participants of 3)
Last Date of registration : 1 December 2019
Course organizer: Sai Krupa Physiotherapy Clinic, Odisha, India
Course provided internationally by :
Academy of physiotherapy (BD) & Monroe medical (UK)
Course contents:
1. Anatomy review, surface marking and functional examination of AC joint, Shoulder joint, Elbow joint, Knee joint, Ankle Joint.
2. Diagnosis making procedure of above mentioned joints plus Tennis Elbow, Dequarvain disease, Trigger thumb/ finger, planter fascitis, Retrocalcaneal bursitis.
3. Special test for above all mentioned conditions /structure
4. Introduction to intraarticular infiltration/ injection, indications, contraindications, precaution, after care of infiltration, products/substance selection.
5. Hands on practical application of Intraarticular infiltration and soft tissue injection to above mentioned conditions.
6. Competenc exam (optional): Those will pass the competence exam they will get a registration number and that will be addressed to academic official website for further verification by any others. This certified health professional will get easy access /assistance to HCPC registration and employment opportunity in UK, Monroe medical will provide all kind of assistance.
Resource person : Dr.S.M Mustofa Kamal PT (Accredited course instructor -minimal invasive approach)
For registration : Dr. Uma Shankar Biswal
Mob: +919438422771
You will get: Course materials, food during course, course attendance certificate / competence Certificate, online priority based further advice, Assistance to get HCPC registration, assistance to get employment, assistance to adaptation training & many more.