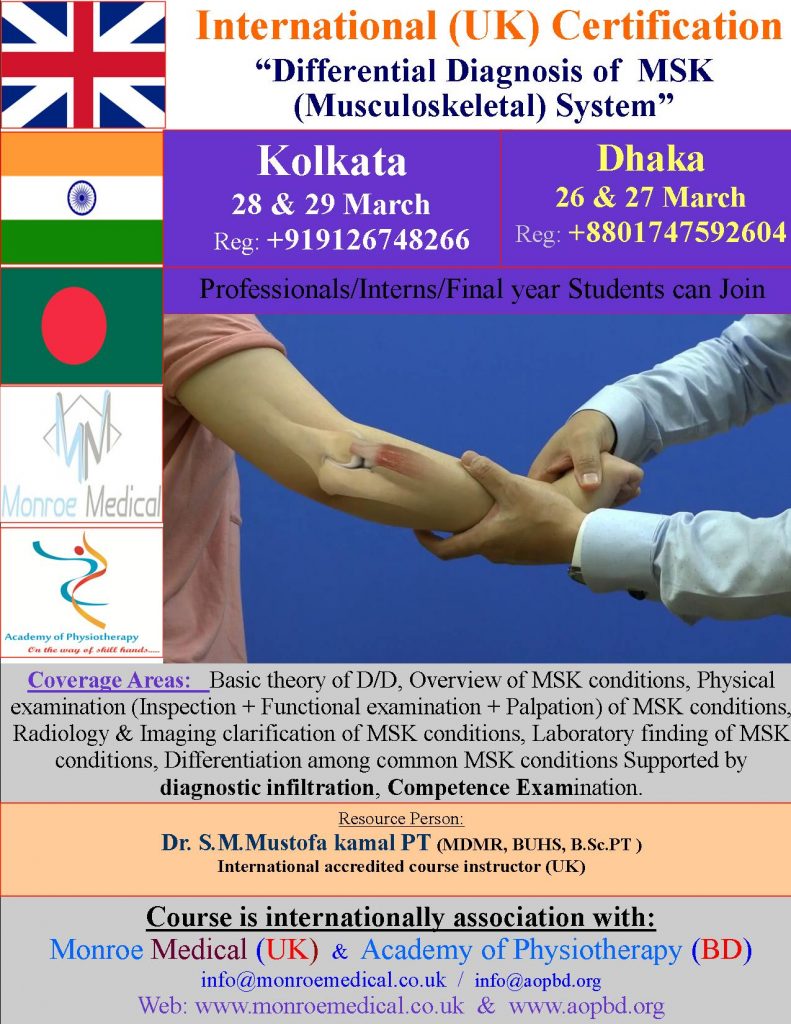 UK Certification Course
#Differential_diagnosis_of_MSK_System
Date: #Kolkata (28 & 29 March 2020) Reg: +919126748266
#Dhaka (26 & 27 March 2020) Reg: +8801747592604
Eligibility: Final Year / Interns / Professional Physio's
#NB: Successful candidate will get an international registration number for certification identity. Limited seat.
#Course_Contents: U/L, L/L, Spine…..
Basic theory of D/D, Overview of MSK conditions, Physical
examination (Inspection + Functional examination + Palpation) of MSK conditions, Radiology & Imaging clarification of MSK conditions, Laboratory finding of MSK conditions, Differentiation among common MSK conditions Supported by
diagnostic infiltration, Competence Examination.
Resource Person:
Dr.S.M.Mustofa kamal PT
MDMR (Fellow), MPH (BUHS), B.Sc.PT (DU)
International accredited course instructor (UK)
Course is Internationally associated with:
#Monroe_Medical (UK) www.monroemedical.co.uk
#Academy_of_Physiotherapy (BD) www.aopbd.org