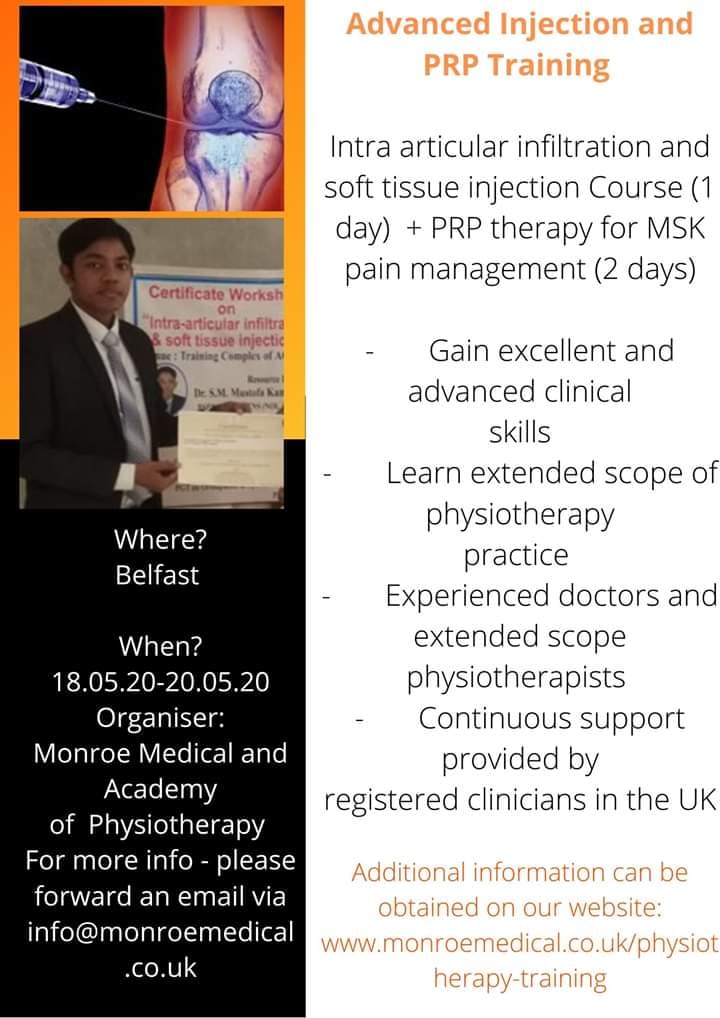 Intra articular infiltration and soft tissue injection (1 days)
Date: 18.05.20
Duration: 1 day  (7  hours + 1 hours competence exam)
Venue: Loughshore Hotel, Carrickfergus, Northern Ireland 
Prices: £490
This excellent and advanced course consists of the following topics:
Basic introduction of infiltration, injections, indication, contraindication, side effects, precautions, injections product we are using commonly, anatomy and palpation. Practical application of infiltration /injections to: Joints (AC joint, Shoulder joint, Knee joint, Ankle joint), soft tissue (Tennis Elbow type-II + type-IV, Dequarvain disease, Trigger thumb, Trigger finger, Planter Fascitis, Retrocalcaneal bursitis, subacromial bursitis)
The main focus of the course is the practical element.
Live Patient Demonstrations
Practical considerations including consent, equipment
Why Injection Therapy?
– innovative and advanced treatment for various MSK conditions
– effective solution for osteoarthritis, cartilage damage etc
– pain reduction
– evidence based
Comprehensive PRP Training Course (2 day)
Date: 19.05 – 20.05
Duration: 2 days
Venue: Loughshore Hotel, Carrickfergus, Northern Ireland 
Prices: £850
Why PRP?
Platelet-rich plasma (PRP) therapy uses injections of a concentration of the patient's own platelets to accelerate the healing of injured tendons, ligaments, muscles and joints.
– reduction of pain
– slows down the progression of osteoarthritis
– stimulates the formation of new cartilage
– increase the production of natural lubricating fluid in the joint,
– widely used in beauty industry
Certified Venepuncture Training included
Life patients demonstrations
In order to apply for this course you would need to be a qualified physiotherapist. The course is also suitable for GP's, GP trainees.
Please note – in order to practice injection therapy in the UK, you will need to hold valid insurance certificate.
To arrange this insurance please ring CSP in the UK (details will be provided).
If you apply for two courses a generous discount is available.
In order to apply for PRP course, you will need to complete Injection course.
The majority of the candidate complete these two courses.
​
Tutors:
Dr. S. M. Mustofa Kamal PT
B.Sc.PT (DU), MPH (BUHS), MDMR (Fellow- SST, BOU)
Experienced & Skilled practitioner  
​
Contact person – Monika Milczarek M.A B.Sc MHCPC
Consultant Physiotherapist and Clinical Educator
​
This course is provided in association with Monroe Medical NI Ltd – an advanced provider of MSK and Neuro Training.
Monroe Medical is a decisive supporting mechanism in relation to Injection Workshop and Training Programmes.
Monroe Medical offers professional advice and comprehensive assistance in relation to work placements in the UK and Ireland.
Why Monroe Medical?
– we offer hands on component in each of our training programmes.
– our courses are provided by experienced physiotherapists and clinicians
– upon completion you will obtain a continuous supervision from registered physiotherapists in the UK
​
A hotel room can be booked in the same venue.
Booking Details:
To book or for any enquiries, please call our physiotherapists on 02896009064 or email info@monroemedical.co.uk